Refresh your Outdoor Spaces
Come in Now for Texas Tough Plants & Flowers
Succulent Garden Make & Take Workshop this Saturday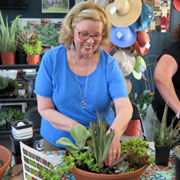 It's hard to beat succulents when you are looking for interesting plants that are heat and drought tolerant. Their distinctive shapes and colors make them perfect choices for container gardens and terrariums.
Join us this Saturday, July 29th at 11 a.m. to plant up your own unique container garden filled with these easy-care beauties. Take your pick of what we have in stock. The cost is based on your selections of pot and plants. Call 972-475-5888 Ext. 2 to sign up today.
Kids Flowers & Succulents Workshop - August 5th at 9:30 a.m.
Kids (ages 5-10) learn about how flowers and succulents grow, then plant a shade flower and create their own sun-loving mini succulent terrarium in recycled tomato packaging.
The cost is only $5 and pre-payment is required. There is still space available, so call (972) 475-5888 Ext. 2 to sign up over the phone, or come in to our store. See our Summer Classes and Events for details on this and our upcoming workshop, "The Good, the Bad & the Ugly" which is all about the bug and worms.
Miniature/Fairy Garden Workshop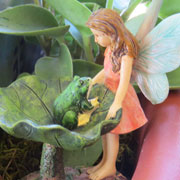 Our Miniature Garden Workshop for Saturday, August 12th is full, but we are taking names on a waiting list in case we have cancellations. If you have already reserved your space, but your plans have changed and you cannot attend after all, please call (972) 475-5888 Ext. 2 today so we can confirm someone on the waiting list.
If you were not able to attend the workshop this time, you can always come in for plants and accessories to create your own fairy or miniature garden at home. We have a fabulous collection of fairies and tiny furnishings and accent pieces in stock. Come in to the Gift Shop and see for yourself.
Solar Lights, Succulents & New Plant Arrivals
We've got some pretty new garden accents including glass flowers that double as solar lights at night. Here are some of the plants that are new or expected this week... they'll all add some pizzazz to your garden and landscape.
Tropical Hibiscus
Crotons – a beautiful assortment
Kaleidoscope & Radiance Abelias
Bloom-a-thon Azaleas
Baby Jade Boxwoods
Acoma Crape Myrtles
Succulents & Cactus - great selection
Little Bunny & Purple Fountain Grass
Red Drift Roses
Flowering Ginger (Curcuma Siam Shadow & Splash)
Pineapple Lily (Eucomis Aloha Maui & Maui)
Perennials – Autumn Joy Sedum, Pincushion flower, Dwarf Obedient plant, Anisacanthus, Hostas, Rudbeckia, Veronica, and several varieties of Coreopsis
Go to our Available Stock List for all of the trees, shrubs, vines, and ornamental grasses we have in stock. List includes sizes, prices and new arrivals for your convenience. See our Planting Advice and Articles section for helpful planting tips and check us out on Facebook to see lots of pictures of what's in stock.
Plant of the Week – Desperado Sage=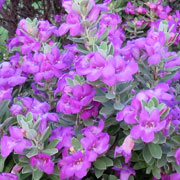 Desperado Texas Sage (Ceniza) is very popular for its beautiful silvery gray-green foliage and lavender bell-shaped blossoms during the summer and fall. The foliage color is a real standout among the typical green leaves of other plants in the landscape. Their blooms are sensitive to humidity, and many people call Texas Sage the barometer bush because they seem to predict rainfall.
Desperado reaches 5-6 feet tall and can be used in mass plantings as a hedge or individually for an eye-catching focal point in your yard along with other plants with low water requirements. Texas Sage can be trimmed, but most people prefer its informal rounded growth habit. It is heat and drought tolerant once established, and grows best in sunny areas with very well-drained alkaline soil. You'll really enjoy this easy-care plant!
Current Specials
Here's a small sampling of what's on sale, but check out our Available Stock List for all of the great bargains on plants!
Hot July Cooler Sale (Truck, Airstream, Longhorn & Benjamin the Bull) – 25% Off
Urban Agriculture Herb Grow Kits – 50% Off
Summer Colorbowls for Sun – Only $19.99
Begonia, vinca, Dahlberg daisy & purslane – 4" now $.98 each or 20-count flats only $12.88
Angelonia, Penta & Vinca (1 gal/reg. $9.99) – Clearance priced at $2.88
Caladiums and Dallas Red & New Gold Lantana (1 gal/reg. $9.99) – Only $4.88
Firelight & Limelight (3 & 7 gal) Hydrangeas – 50% Off
Dwarf Sabal Palms (3 gal) & Windmill Palms (7-30 gal) – Now 35% Off
Yucca (red, variegated & Pendula soft leaf) - 50% Off
Select Crape Myrtles – 20-50% Off
Huge Select Group of Fruit Trees – up to 72% Off (See Edibles Section of our Available Stock List)
Grapes – 50% Off
Pecan Trees – 20% Off
Huge selection of trees, shrubs & groundcovers – 50% off in the Half Price House
Ask Burton
Burton specializes in diagnosing and solving plant problems. You may be experiencing these same issues, so we want to share Burton's advice.
Please bring actual bugs or plants or photos showing the problem when you come to get your gardening problems identified.
This week, we're talking on how to keep your crape myrtles at their best.
Q: My crape myrtle is dripping sap, isn't blooming right, and generally just looks tired. How do I fix this? There are tiny white dots up and down the twigs and smaller branches.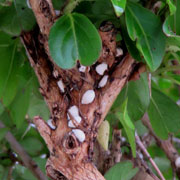 A: This pest is crape myrtle bark scale which sucks sap from the plant, making it less vigorous and reducing bloom. Sticky residue from the insect coats branches, stems, and leaves, then airborne molds grow in the sugary material and blackens the trunks of the plant. It's not likely to ever kill the plant outright, but it's definitely undesirable.
The insect will get into every nook, cranny, and crevice in the branch structure and thus it's hard to spray for. The good news is that it is very easy to treat with a drench insecticide. We recommend our Bonide or Ferti-lome Systemic Insect Drench. Mix in water according to label instructions and pour the drench slowly around the base of the crape myrtle trunk. The pesticide will have to travel up the trunks and branches, so give the product some time to work - typically, 2-3 weeks, and the scales will be dying. This treatment will fix the problem for months. Check the plant closely for re-treatment if necessary next April.
Fertilize the plant vigorously this September, and your plant will be set on the road to a good recovery.
Plan Now to Enjoy Your New Landscape this Fall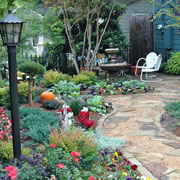 Anyone you talk to in the landscaping business will tell you that this is the ideal time to work with a designer on a new landscape plan if you want to enjoy your outdoor spaces once cooler weather arrives. When you meet with one of our landscape designers, he/she will listen to your wants and needs, then create a master plan customized specifically for you. They can include hardscapes to enhance your outdoor living… imagine a fire pit, water feature, stone pathways, kitchen/patio areas and more… whatever you want!
Our designers can also develop solutions for any problem areas you have such as poor drainage or the need for a privacy screen or windbreak. No matter the scope of your project, our designers can create a unique plan exclusively for you. Once you have approved the design, our experienced landscape team can install it all at once, or in phases as your budget allows.
Call us today at 972-475-5888, Ext. 5 and beat the fall rush! Watch our video and see our Landscape Services page to learn about the landscape services we offer to make your outdoor spaces more beautiful and livable for you and your family.
Recommend Our Webletter to a Friend!
As you, our regular readers, know, the Webletter we send out weekly is filled with helpful information about planting in North Texas, as well as our latest specials. But if you have a friend who's enthusiastic about having a beautiful yard and seeing the best of the new material as soon as it arrives, recommend our Webletter to them!
They'll see that it's also filled with pictures taken here at the nursery, usually in the same week the article is published, of the newest trees, shrubs, and flowers as they come in. Why settle for generalized pictures of a common shrub when you can see the very plants we have available, right now?

Covington's Nursery & Landscape
At Covington's Nursery you'll find: 18 acres and 28 greenhouses, 2 ponds, trees, shrubs, vines, ground covers, annual and perennial color, pottery, fountains, and a gift shop. We're open 7 days a week to serve you.
Remember Covington's for a vast selection of quality plants to choose from (18 acres!), and the knowledge & service to help you with your landscaping needs. Email Covington's -- You can also Share this Page with a Friend.
In This Issue...

---
Feed your flowers with Covington's Premium Flower & Garden Fertilizer to promote blooming!
---
July
Gardening Tips
Summer's here and temperatures are heating up, so please be sure to give your plants adequate water so they thrive and you protect your investment!
Don't let mosquitoes put a damper on your outdoor activities. Repel them with Cedarcide Granules or spray Bonide Mosquito Beater with cedar and citronella oils. Also use Mosquito Bits with BTI to kill mosquito larvae in standing water.
See our July Gardening Tips for more conventional and organic solutions for insect, disease or weed problems that may be bugging you this month so you can enjoy your yard and keep it looking good.
---
Earn Money for your Group with Covington's Fall Fundraiser
Looking for a fresh easy fundraiser? We have it! We'll be growing pansies and ornamental cabbage / kale here at the nursery so your group (school, PTA, church, scouts, athletic or drill team, etc.) can grow your bank account to fund the activities you have planned!
It's time to get started, and it's so simple. Your group pre-sells pansies and cabbage/kale that you'll buy from us at a greatly reduced cost, and you rake in the profits! See the Flower Fundraising Program for details, and apply today.

---
Covington's Nursery
Gardening Guide
A book that provides pictures and descriptions of all the top plants that are best suited and most recommended for North Texas.


---
Become a Covington's Club Member
Become a member to receive 10% off all regular priced merchandise for 2 years. You'll also receive our newsletter, full of seasonal information, helpful gardening tips and valuable monthly discount coupons in your mailbox! See Discounts & Savings to see how easy it is to become a Club Member.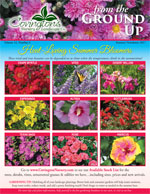 ---
Our Inventory
is Online!
You can check availability of our plant material online at your convenience! Our Available Stock (PDF) list is updated several times a week and it includes a special "Half Price" section with beautiful plants at greatly reduced prices.
The inventory list has pricing and container sizes listed alphabetically by plant type.

Covington's Webletter
Sign Up Today!