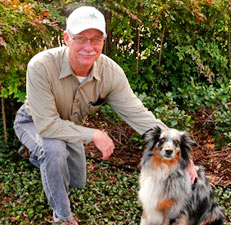 Joe's Story
Born and raised in Greenville, Texas, Joe got his first taste of the nursery business when he was only eight years old. Joe's dad was a fireman who ran a small nursery and landscaping business. Joe's afternoons were spent with his dad either delivering plants or learning first-hand how to use a shovel.
After his father's death when Joe was 16, Joe met his future wife, finished high school and got a job at Dallas Nurseries. In 1972, at age 20, he married Gayle Selement, moved to Garland and bought one acre of land at the intersection of Oates & Broadway from a fellow who had won the land in a poker game.
Joe and his mom, Eula, co-signed a $6,000 loan from Southern Bank to build a nursery facility. Gayle helped Joe get established by working the counter while he worked the landscape sites. When the first of their two sons, Ryan, was born in 1979, Gayle left the nursery.
Four years later in 1983, their son Ross was born. Ross has worked summers for the nursery since 1996. After his completion of his studies at Baylor University, he plans to join the family business. Ryan is attending SMU, majoring in film, television and English. Gayle is still very much involved, behind the scenes. Serving as Joe's confidante and advisor, they are truly a team. Gayle has most recently been involved in the creation of the retail store's gift shop.
After her retirement from E-Systems, Inc., Joe's mother, Eula, worked with him for fifteen years, from 1975 until 1990. She kept the books, assumed the role of "designated gopher", and kept Joe in line as well! Joe's hard work, support from his family, and the growth of Garland and surrounding communities helped his business thrive, and he eventually ran out of space at the Garland location.
Moving to Rowlett
In 1984, Joe bought land in Rowlett where he could store his equipment. The Rowlett property was unevenly graded, and Joe vividly recalls hauling in truckload after truckload of gravel to help level things out. In the late 80's, Joe had a surprise phone call from Mort Mortensen asking if he'd sell his Garland property so that Phillips 66 could build a gas station. The wheeling and dealing took a while, but, finally, Joe decided to sell, and moved his entire operation to Rowlett.
Since then, Rowlett's population has grown from about 10,000 to 50,000 people, and as homes were built in the area, Joe's nursery continued to grow. Along the way, Covington's picked up a mascot. In 1988, Joe's son Ryan found an Australian shepherd pup near their home. Pepper began hanging out at the nursery on a daily basis, and would ride in Joe's truck from job site to job site. We are sorry to tell our long-time customers who remember our sweet baby girl, Pepper, that after 14 years of love and devotion to our family, she left the house one day never to return. We miss her.
From one man operating alone on a single acre, Covington's has grown to a true "destination nursery, with 18 acres of material, 16 greenhouses, and 50 employees. The one thing that hasn't changed is Joe's commitment to quality and to you—his customers.